PEX Plumbing : Top Notch customer service, affordably priced
Pex Repipe service for Portland,Or
We are so fortunate to live in Portland.  Our water supply is ample and clean.  The nature of our clean and soft water is easy on plumbing systems.  Even so there are many reasons why you may need a PEX Plumbing RePipe :
Low water pressure – as our city and homes continue to age so does plumbing. Galvanized steel pipes will rust, which end up in the fittings and fixtures causing water blockage.  A repipe to PEX will eliminate galvanized steel ending up in your water system, no more rust or sediment in your fixtures.
Leaks – galvanized and copper water pipes develop leaks the average lifespan of metallic pipes in Portland is about 30 years with residential grade copper pipes (look for red identification markings) and galvanized pipes deteriorate and develop pinhole leaks. These leaks can go undetected for a long time and cause major structural damage.
Inferior Grade Pipes – CPVC pipes are plastic pipes with a light creamy color.  This type of pipe was used extensively in the 90's.  The problem is that 20 years later the material has become very brittle.  Sometimes just a small bump can be fatal.  Most homeowners with until they have had a couple of these catastrophic failures, with extensive water damage, before accepting that they need to repipe their home.  Usually the repair bill for the water damage is more than the cost of a PEX Plumbing Repipe.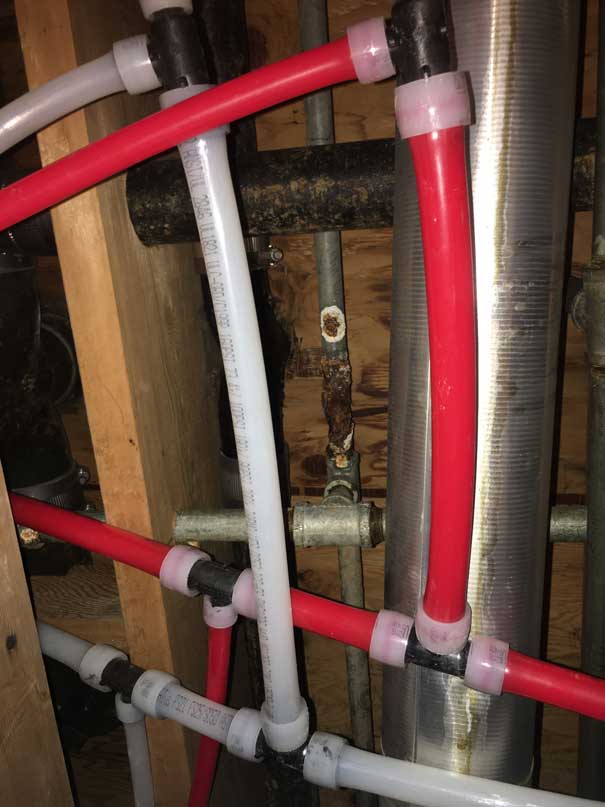 Submit a "Work Request" to schedule your free in home evaluation